My name is Ann and I am originally from a small town called "Niel-bij-As" which is near Genk in Belgium, Europe. Since April 2000 I live near Vancouver in the province of British Columbia which is located in the western part of Canada. Vancouver is a beautiful city located at the edge of the Pacific Ocean and surrounded by mountains. I moved here to be with my Canadian boyfriend (who is my husband now). :o) In these years that I have been living here I really got to enjoy the beautiful west coast. This beautiful scenery really got me going with photography, especially after buying my first digital camera in 2001, a Sony Mavica FD85 (1.3 megapixels).
In the beginning I only took the usual vacation or snap shots and never really thought about composition, lighting, etc. After getting quite some wonderful comments on my photos I became more interested in photography and tried to "make" a better photo. I would think a bit more about the composition, how were the light conditions and such, but the equipment wasn't really to create stunning shots as my camera was a "point & shoot" with no manual options. But I did my best with what I had and I must say that some photos turned out quite good. In the summer of 2006 I bought a better camera which allowed me to use more manual settings and I have been able to take better photos. Of course it's not just due to the new camera that my photos are better, but also due to the amazing tips and critiques I have received from co-photograhers over time! In 2008 I bought my first DSLR and I bought a new DSLR in July 2012 with a better lens.
I am no professional whatsoever and don't make a living from taking photos, but I do enjoy taking photos very much and it's mainly a fun hobby. I love to take photographs of any kind of scenery, especially mountains, lakes and sunsets, but also city scenes!
This is my current equipement:
*Sony DSC-H5 (with a 12x optical zoom lens)
*Sony Alpha A200 (Sony 18-70mm lens & 75-300mm lens)
*Sony Alpha A57 (Tamron SP AF 17-50mm f/2.8 XR Di II LD IF)
*B+W circular polarizer
*B+W ND filter Sony circular polarizer filter
*Sony ND8 filter
*Mini tripod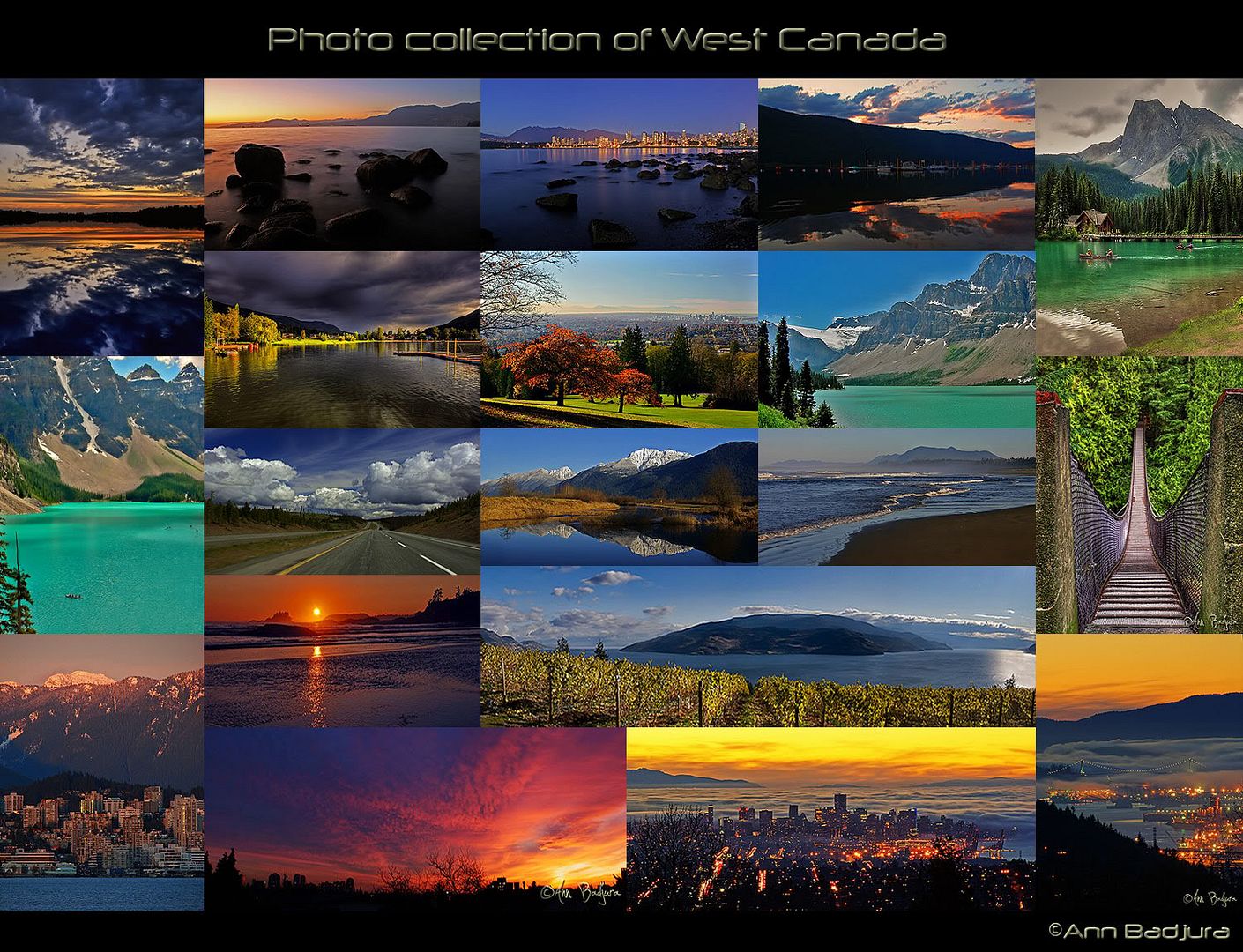 Images Copyright by Ann Badjura unless otherwise mentioned.
Contact me by email if you are interesting in buying or using any of my images. THANK YOU!